Geography - Split Riviera
The region lies in the central part of the Adriatic coast and has a narrow and densely populated coastal area. The mountains Kozjak and Mosor separate the coastal area from the hinterland.

It is connected with the rest of Croatian by the motorway Zagreb-Split, as well as by railway. The international airport Split-Kaštela is mainly used for tourist flights during the summer. There is also a smaller airfield on the island Brač.
The hinterland is intersected by mountains which extend parallel to the coast. This area is sparsely populated and economically poor.
The coastal region makes up a narrow strip along the sea, between the mountains and the Adriatic. This area is highly urbanized and economically developed in comparison to the hinterland. The islands are sparsely populated, economically more developed than the hinterland, however, due to various circumstances, have been depopulated by continuous emigration.
Climate of the Split region
Basically, a Mediterranean climate, whose basic characteristics are dry and hot summers and mild, wet winters.
The climate of the island area is warm with plenty of sunshine and temperatures that rarely drop below zero and with little rainfall, unlike the climate of the hinterland areas, where the temperatures often fall below zero during the autumn and winter months, with more rainfall. The climate of the coast is characterized by maximum precipitation during the cold winters, and extremely bright, hot and dry summers.
The temperature of the coldest month is between -3°C and +18°C, while the average temperature of the warmest month is higher than 22°C. The average summer temperature in Split is 26°C, and in winter about 10°C. The average annual temperature is 17°C.
The prevailing winds are "bura" and "jugo" (south) - Bora and Sirocco - whose frequency is between 35% to 55% annually.
The Adriatic Sea, as a natural reservoir of relatively warm water with a temperature of 11°C to 27°C, is the most important indicator of climatic characteristics in the wider region.
Population
The average population density is 102 inhabitants/km2. Ethnic composition: Croats - 96.3%, Serbs - 1.2%, Albanians - 0.2%, Bosnians - 0.2%, Slovenians - 0.2% and others.
Economy
The most important economic activity is tourism. Manufacturing and agriculture are in decline. People mostly grow olives, grapes and figs.
Sights of the Split area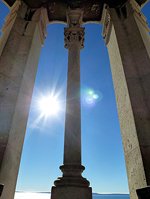 • Palace of Diocletian, a Roman imperial palace from the 4th century
• UNESCO World Heritage, since 1979.
• Solin, ancient city of Salona.
• fortress Klis
• Sinjska Alka
---